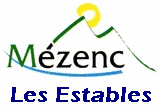 Ski resort Les Estables
Les Estables resort opening date will soon be available.
Estables, Haute Loire, is situated at an altitude of 1350m, in the Massif du Mézenc. It offers a warm and family friendly region and the pistes are suitable to all levels, from beginners to more experienced, from skiing to snowboarding as well as cross country skiing. Activities on offer include hiking with rackets on, dog sledding rides. Also available are local specialties such as Fin Gras (from the traditional farm of Mézenc), not to be missed. An unusual holiday to look forward to.
They traveled for you!
9.1/10
2 reviews
Read customers' opinions