ski pass to Flumet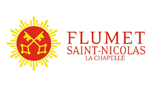 Don't hesitate to book your ski pass when you reserve your accommodation or before you leave for Flumet in order to take advantage of our discount and make your planning easier.

A ski pass is compulsory for use on the ski lifts of Flumet in the mountains Northern Alps (Savoie), and without the use of the ski lift you will not be able to access the ski slopes.

The ski pass for of Flumet will allow you to enjoy the snow slopes fully throughout your holiday and have a memorable time. The resort of Flumet offers numerous activities including : Babysnow, Langlauf, Snowscoot, Snowpark, Cross Country skiing...
Read more

x



Filter

Sort
Ski pass Flumet
2 results found


Description
Services
Resort
Map
Residence "Les Chalets des Evettes", 1'000 m a.s.l., 3 storeys. 80 apartments in the residence. 2.5 km from the centre of Flumet, 10 km from the centre of Megève, 25 km from the centre of Albertville, 20 m from the skiing area. For shared use: indoor pool heated (12 x 5 m, depth 80 - 160 cm, seasonal availability: 15.Dec. - 15.Apr.). Shower/WC in the pool area. In the complex: reception, lounge with TV, WiFi, sauna, hydro massage bath, billiard table, storage room for skis, washing machine, tumble dryer (for shared use, extra). Breakfast. Parking (limited number of spaces). Shop 2 km, supermarket 5 km. Ski rental 200 m, ski school 3 km. Please note: the photograph shows a typical example. The holiday properties may differ in living space, floorplan, equipment and furnishing.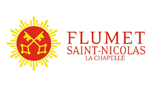 Altitude
: 1000m

7.2

/10 - 18 reviews -

Read reviews
31 Chair lift(s)
45 Ski lift(s)
Altitude : 1000m - 2070m
Opened : from 17/12 to 10/04
Ski area : Espace Diamant
192 km of groomed runs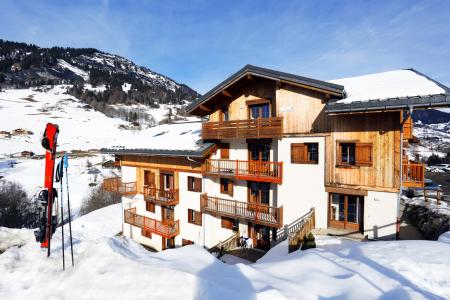 Strengths

7.8
/10

Ski-in/ski-out & foot of the slopes

Swimming pool

Jacuzzi

Sauna

TV (extra charges)

Internet access

Bed linen included

Pets (extra charges)
Description
Services
Resort
Map
The residence Les Chalets des Evettes***, Flumet, Alps, France is situated at the foot of the ski slopes and comprises of 80 luxury apartments spread over 4 traditional chalets, in an enclosed and wooded area. The first shops are about 100m away. Facilities in the residence Les Chalets des Evettes, Flumet, Alps, France, available for complete comfort and leisure include: heated indoor swimming pool, jacuzzi, sauna, ski lockers, board games for rent, iron and ironing table, fondue and raclette sets.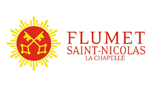 Altitude
: 1000m

7.2

/10 - 18 reviews -

Read reviews
31 Chair lift(s)
45 Ski lift(s)
Altitude : 1000m - 2070m
Opened : from 17/12 to 10/04
Ski area : Espace Diamant
192 km of groomed runs
Summary
show more options
Location / Distance
Ski slopes
Indifferent
vider
distances_pistes
0
Ski-in/ski-out & foot of the slopes
ajouter
distances_pistes
1
0
< 50 m
ajouter
distances_pistes
0-50
0
< 100 m
ajouter
distances_pistes
0-100
0
< 200 m
ajouter
distances_pistes
0-200
0
< 300 m
ajouter
distances_pistes
0-300
0
< 400 m
ajouter
distances_pistes
0-400
0
< 500 m
ajouter
distances_pistes
0-500
0
< 1 km
ajouter
distances_pistes
0-1000
0
< 2 km
ajouter
distances_pistes
0-2000
0
< 5 km
ajouter
distances_pistes
0-5000
0
Ski lifts
Indifferent
vider
distances_remontees
0
Ski lifts base
ajouter
distances_remontees
1
0
< 50 m
ajouter
distances_remontees
0-50
0
< 100 m
ajouter
distances_remontees
0-100
0
< 200 m
ajouter
distances_remontees
0-200
0
< 300 m
ajouter
distances_remontees
0-300
0
< 400 m
ajouter
distances_remontees
0-400
0
< 500 m
ajouter
distances_remontees
0-500
0
< 1 km
ajouter
distances_remontees
0-1000
0
< 2 km
ajouter
distances_remontees
0-2000
0
< 5 km
ajouter
distances_remontees
0-5000
0
Ski school
Indifferent
vider
distances_ecole
0
Nearby
ajouter
distances_ecole
1
0
< 50 m
ajouter
distances_ecole
0-50
0
< 100 m
ajouter
distances_ecole
0-100
0
< 200 m
ajouter
distances_ecole
0-200
0
< 300 m
ajouter
distances_ecole
0-300
0
< 400 m
ajouter
distances_ecole
0-400
0
< 500 m
ajouter
distances_ecole
0-500
0
< 1 km
ajouter
distances_ecole
0-1000
0
< 2 km
ajouter
distances_ecole
0-2000
0
< 5 km
ajouter
distances_ecole
0-5000
0
Nursery
Indifferent
vider
distances_garderie
0
Nearby
ajouter
distances_garderie
1
0
< 50 m
ajouter
distances_garderie
0-50
0
< 100 m
ajouter
distances_garderie
0-100
0
< 200 m
ajouter
distances_garderie
0-200
0
< 300 m
ajouter
distances_garderie
0-300
0
< 400 m
ajouter
distances_garderie
0-400
0
< 500 m
ajouter
distances_garderie
0-500
0
< 1 km
ajouter
distances_garderie
0-1000
0
< 2 km
ajouter
distances_garderie
0-2000
0
< 5 km
ajouter
distances_garderie
0-5000
0
Resort center
Indifferent
vider
distances_centre
0
Nearby
ajouter
distances_centre
1
0
< 50 m
ajouter
distances_centre
0-50
0
< 100 m
ajouter
distances_centre
0-100
0
< 200 m
ajouter
distances_centre
0-200
0
< 300 m
ajouter
distances_centre
0-300
0
< 400 m
ajouter
distances_centre
0-400
0
< 500 m
ajouter
distances_centre
0-500
0
< 1 km
ajouter
distances_centre
0-1000
0
< 2 km
ajouter
distances_centre
0-2000
0
< 5 km
ajouter
distances_centre
0-5000
0
Shops
Indifferent
vider
distances_commerces
0
Nearby
ajouter
distances_commerces
1
0
< 50 m
ajouter
distances_commerces
0-50
0
< 100 m
ajouter
distances_commerces
0-100
0
< 200 m
ajouter
distances_commerces
0-200
0
< 300 m
ajouter
distances_commerces
0-300
0
< 400 m
ajouter
distances_commerces
0-400
0
< 500 m
ajouter
distances_commerces
0-500
0
< 1 km
ajouter
distances_commerces
0-1000
0
< 2 km
ajouter
distances_commerces
0-2000
0
< 5 km
ajouter
distances_commerces
0-5000
0
Destination
Ski resort
Northern Alps
Southern Alps
Jura
The Massif Central
Bernese Oberland
Piedmont
Pyrenees
Valais
Vosges
Accommodation
Surface
Indifferent
supprimer
surface
1
< 25 m²
ajouter
surface
0-25
0
25 - 35 m²
ajouter
surface
25-35
0
35 - 45 m²
ajouter
surface
35-45
0
45 - 55 m²
ajouter
surface
45-55
0
55 - 65 m²
ajouter
surface
55-65
0
65 - 75 m²
ajouter
surface
65-75
0
75 - 85 m²
ajouter
surface
75-85
0
85 - 100 m²
ajouter
surface
85-100
0
> 100 m²
ajouter
surface
100-0
0
Budget
Price people
Indifferent
ajouter
prix_personne
0
1
< 50€
ajouter
prix_personne
50
0
< 100€
ajouter
prix_personne
100
0
< 200€
ajouter
prix_personne
200
0
< 300€
ajouter
prix_personne
300
0
< 400€
ajouter
prix_personne
400
0
< 500€
ajouter
prix_personne
500
0
< 600€
ajouter
prix_personne
600
0
< 700€
ajouter
prix_personne
700
0
< 800€
ajouter
prix_personne
800
0
< 900€
ajouter
prix_personne
900
0
< 1000€
ajouter
prix_personne
1000
0
< 1500€
ajouter
prix_personne
1500
0
< 2000€
ajouter
prix_personne
2000
0
Resort info
Village altitude
Indifferent
ajouter
altitude_village
1
< 1000 m
ajouter
altitude_village
0-1000
0
1000 - 1500 m
ajouter
altitude_village
1000-1500
0
1500 - 2000 m
ajouter
altitude_village
1500-2000
0
> 2000 m
ajouter
altitude_village
2000-0
0
Resort maximum altitude
Indifferent
ajouter
altitude_max_domaine
1
> 1000 m
ajouter
altitude_max_domaine
1000
0
> 1500 m
ajouter
altitude_max_domaine
1500
0
> 2000 m
ajouter
altitude_max_domaine
2000
0
> 2500 m
ajouter
altitude_max_domaine
2500
0
> 3000 m
ajouter
altitude_max_domaine
3000
0
Km of groomed runs
Indifferent
ajouter
km_pistes
1
< 50 km
ajouter
km_pistes
0-50
0
50 - 100 km
ajouter
km_pistes
50-100
0
100 - 200 km
ajouter
km_pistes
100-200
0
> 200 km
ajouter
km_pistes
200-0
0
◄ Back

Search
Weather Flumet
Friday 02 December
Morning
4°
Rains : 0mm
Altitude isotherme : 2000m
Wind : 36km/h 113
Afternoon
12°
Rains : 0mm
Altitude isotherme : 3200m
Wind : 32km/h 101
Saturday 03 December
Morning
10°
Rains : 0mm
Altitude isotherme : 2900m
Wind : 13km/h 171
Afternoon
12°
Rains : 0mm
Altitude isotherme : 3200m
Wind : 10km/h 218
Sunday 04 December
Morning
8°
Snow height : 4cm
Altitude pluie/neige : 2300m
Wind : 30km/h 186
Afternoon
11°
Rains : 0mm
Altitude isotherme : 3000m
Wind : 24km/h 203
Monday 05 December
Morning
5°
Rains : 0mm
Altitude isotherme : 2100m
Wind : 30km/h 160
Afternoon
13°
Rains : 0mm
Altitude isotherme : 3300m
Wind : 27km/h 169
Tuesday 06 December
Morning
10°
Rains : 3mm
Altitude isotherme : 2900m
Wind : 24km/h 202
Afternoon
10°
Rains : 2mm
Altitude isotherme : 2900m
Wind : 16km/h 189
Wednesday 07 December
Morning
7°
Snow height : 0.8cm
Altitude pluie/neige : 2100m
Wind : 16km/h 225
Afternoon
9°
Rains : 0mm
Altitude isotherme : 2700m
Wind : 30km/h 201
Thursday 08 December
Morning
5°
Rains : 0mm
Altitude isotherme : 2100m
Wind : 28km/h 181
Afternoon
7°
Rains : 0mm
Altitude isotherme : 2400m
Wind : 0km/h